Indoor 802.11n Access Point
The UniFi® AP is an Access Point ideal for deployment of high-performance wireless networks.
Faster, less expensive, 10x the client
capacity than conventional APs.
Sleek Industrial Design
Featuring a clean industrial design, the UniFi®AP can be integrated seamlessly into any wall or ceiling surface (mounting kits included). The LED indicator simplifies deployment and configuration.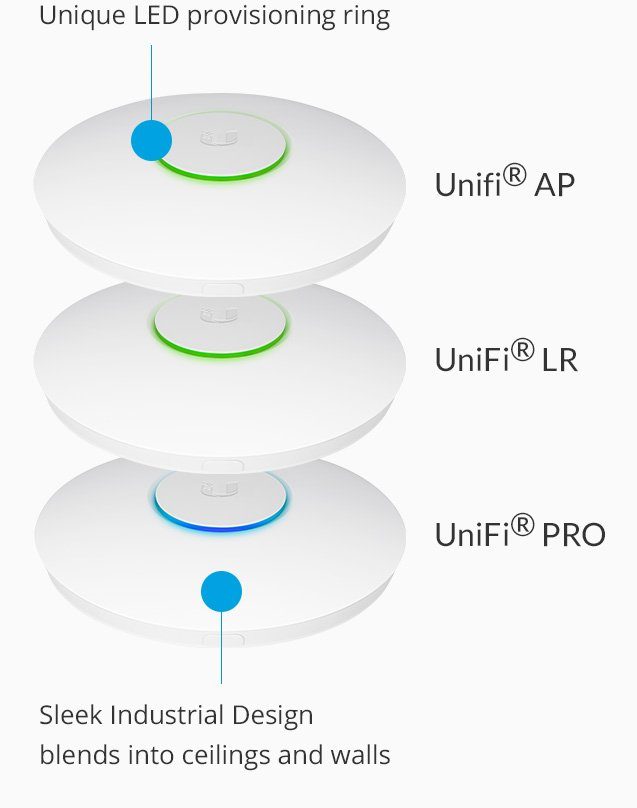 Fast and Easy to Install
Plug and Play installation combined with Lightspeed's cloud based management tools eliminate the need for on-premise IT expertise.
Simultaneous Dual-Band Wi-Fi
The UniFi® AP-PRO supports up to 300 Mbps, 2×2 MIMO for the 5 GHz band and up to 450 Mbps, 3×3 MIMO for the 2.4 GHz band.
Which Should I buy?
That depends on how many devices need Wi-Fi in your office, and how big a space (and how many concrete walls). Here is a product selection tool that will help: